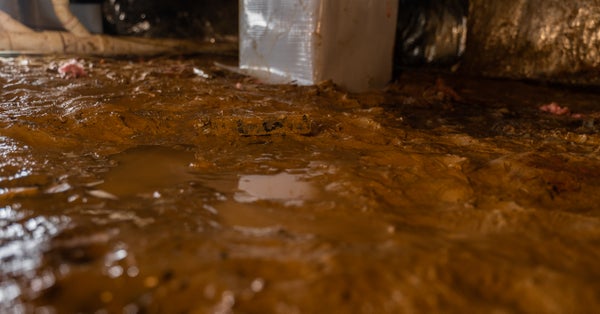 Does rain easily waterlog your home? Do you dread checking the forecast because you know your house could spring a leak?
Our reliable foundation solutions protect your home from Mother Nature, so you don't have to live in fear. Alpha Foundations can help you understand why your foundation is leaking and what you can do to repair it, keep it safe, and prevent water damage.
Understanding Your Home's Foundation
The first thing to consider is what kind of foundation your home has. It's important to know the type of foundation on which your home stands because it supports the entire structure. Having the right information enables you to choose the most effective repair solutions for your individual situation.
Most homes built in Florida nowadays have a slab or slab on grade foundation. That means there is nothing underneath the house other than concrete. This is the more popular type of foundation in Florida because of the state's sandy soils and potential for hurricanes.
However, some older homes have a crawl space beneath them. A crawl space is a hollow, 1-3′ area directly beneath the house that elevates it off the ground. These areas are generally empty but can contain support posts for the rest of the structure as well as any electrical wiring, ductwork, or plumbing lines. Similarly, below-grade basements under houses are an even more rare find.
What Are the Symptoms of a Foundation Leak?
Regardless of what kind of foundation you have, if you've got a leak, you will typically start to notice some of the following:
Standing water
Higher indoor humidity
Condensation
Musty/unpleasant odors
Pest infestations
Understanding Why Your Home Leaks
Now that you've seen what kinds of issues can be lurking around your home, don't you want to know how they got there?
Your home could sustain a slab, foundation, or crawl space leak for many reasons including:
Improper Exterior Drainage – Exterior drainage is vitally important in keeping water away from your foundation. But if these systems are nonexistent, broken, clogged, or not directing water properly, you'll see water infiltration and damage in your home. These include gutters, downspout lines, and French drains.
Poor Grading – Over time or due to weather, the soil around your foundation can settle into place, sink, and slope unevenly. If water is pooling around your foundation instead of draining away from it, it can leak inside your home.
Settlement/Sinking – As we just mentioned, it's normal for soil to settle into place whether naturally, due to weather, or because it can no longer support the weight of the structure. When the soil settles, so can your house. This can then lead to cracks and gaps in your foundation and home, and water can easily find its way inside through these openings.
Weather – Along with being notoriously humid, Florida also tends to be very wet, experience periods of heavy rain and flooding, and be a target for hurricanes. Florida's hurricane season lasts from June through November, months that typically have the most rainfall. Orlando, for example, sees an average of 8.74 inches of rain in June, 7.10 inches in July, and 7.83 inches in August. (Source: U.S. Climate Data) Of course, this can change dramatically with a hurricane's intense winds and rains. When there's a lot of water with nowhere to go, it can often end up in your home.
Vented Dirt Crawl Space – Leaking often occurs in homes built on crawl spaces for various reasons. Crawl spaces often allow water inside through open vents or lack of proper interior drainage, and unreliable vapor barrier seals.
Are Foundation Leaks Serious?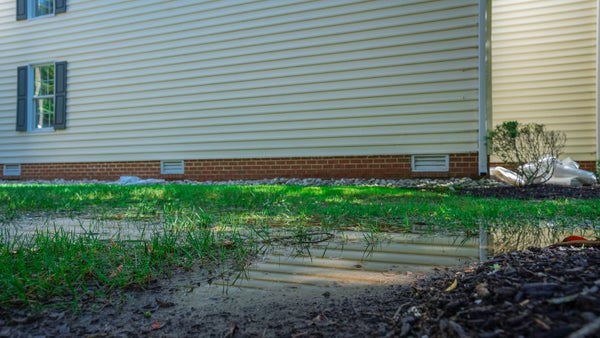 When it comes to any kind of leak, erring on the side of caution and treating it as a serious issue is in your best interest.
"But I only see a little bit of water, so it's no big deal," you might be thinking. This is a dangerous mindset to have. Even the smallest problem can easily worsen and turn into a huge issue that threatens your foundation and the entire home. Small cracks can grow into larger ones that affect your home's structural stability and let water and pests inside. Likewise, small leaks can flood your home, damage your belongings, and lead to unpleasant odors and mold growth.
So, you see, neglecting a crack or leak can lead to more damage and hazardous living conditions for your family, as well as a more intensive and expensive repair process. Being vigilant and acting as soon as you start to notice a problem is the best thing you can do for your home and your family.
How Do You Fix a Leaking Foundation?
As tempting as it may be to take on a repair project yourself in the age of DIY, it's best to leave this type of work to an experienced professional. Temporary, quick fixes are just that – temporary. If you opt for that route, you'll probably end up spending more time and money reapplying or fixing those solutions that are not true fixes and do not address the root of the problem. You want foundation waterproofing that is going to last.
Trust in the Experts
Instead, if you notice any sign of a crack or a leak, don't hesitate to reach out to foundation, crawl space, waterproofing, and drainage repair experts like our team at Alpha Foundations.
The first step is scheduling a free inspection and estimate with one of our certified field inspectors. Your inspector will conduct a thorough assessment of your home to uncover any foundation, crawl space, or drainage issues that may need attention. The inspector will share his findings with you and discuss various solutions to fix those problems. In doing so, he will craft a customized plan with reliable solutions to meet your home's specific repair needs.
The cost of repair can vary significantly depending on different factors like the extent of damage, material needed, and so on. If budgeting is a concern, don't hesitate to talk to your inspector who can work with you on payment and financing options.
We'll Protect Your Home with Reliable, Warrantied Solutions
We offer numerous warranty-backed waterproofing solutions that have been tested and proven to properly protect homes with foundation, crawl space, and drainage problems. Depending on your home's repair needs, we can install some of the following products and solutions in and around your home:
Exterior Drainage Systems
Starting outside your home, it's critical to have systems in place to prevent water from coming in. That's where various exterior drainage options come into play.
Along with having clog-free and properly functioning gutters attached to the edges of your roof, you also need downspout lines in good, working condition. Downspout lines channel water from the gutters away from your foundation. These pipes need to point away from your foundation, and they can be placed in the ground and directed to drain to a street-side curb or to a YardWell™ outlet in your yard.
French drains are similar to underground downspout lines, except for the kind of pipe used. This system uses a perforated pipe that is placed in the ground and seated in non-compactable gravel. This allows water to pass through the pipe and drain to the appropriate area away from your home.
Grated drainage pipe sections can be placed near doors and entryways like in front of your garage door or a side access door to your enclosed porch or pool area. These systems function similarly in collecting water, directing it away from the home, and keeping things like leaves and debris from clogging the drainage channel.
Crawl Space Waterproofing
If you have a crawl space under your home, it is vital for you to keep this area free of water and moisture, as these issues can lead to a host of problems throughout your home.
Crawl space waterproofing begins with an interior drainage system. CrawlDrain™ is specially designed to sit in the dirt crawl space floor and collect seeping water from the walls and floor. Drainage matting placed on the floor helps direct water from other areas of the crawl space to the drainage system around the crawl space perimeter. After collecting water, the sump pump system directs it to drain outside the crawl space through drainage pipes..
Another two-fold solution is encapsulation with a strong vapor barrier. Our CrawlSeal™ is a 20-mil liner that helps with waterproofing by keeping vapor and moisture out of the crawl space, and it properly seals the crawl space from the earth. For a comprehensive crawl space sealing solution, we'll place airtight vent covers over the crawl space vents to keep outside air and water out of your home and make it more difficult for pests to get inside.
While CrawlSeal™ acts as a moisture and vapor barrier, it's also important to keep the humidity levels of your crawl space in check. Our energy-efficient dehumidifier does just that by drawing excess moisture out of the air. It also is self-draining and can be directed to drain into our sump pump systems; that means no more bucket-emptying for you!
Basement Waterproofing
As we mentioned, basements are few and far between in Florida. But we have come across some properties that have these below-grade areas in their homes. Just as with crawl spaces, it is important to keep water out of basement areas as well.
The waterproofing process is almost identical to crawl space waterproofing, just with slightly different solutions. The sub-floor BasementGutter™ interior drainage system is installed throughout the basement's perimeter and connected to a sump pump system. Also, installing a dehumidifier in your basement helps to clean and filter the air, control moisture and humidity, reduce odors and mold growth, just like in crawl space installations..
Our Other Reliable Solutions

Keeping water out of your home isn't confined to just waterproofing products. Our foundation repair solutions like wall anchors and pier systems help shore up your foundation and can even improve the condition of your foundation walls. That means with a lack of cracks and gaps, water will not have much of an opportunity to seep inside. Cracking and uneven concrete floors and the like can be repaired with our durable and waterproof PolyRenewal™ concrete lifting and leveling system, as well.
Contact Alpha Foundations for a Free Foundation Leak Inspection
If you have water leaking in and around your slab, foundation, or crawl space, you can rest assured Alpha Foundations can help. Since 2002, we've been helping homeowners across the State of Florida repair and protect their foundations. Our professional, experienced team is eager to help you create a safe, healthy, and dry home with our trusted solutions. Contact us today to learn more and to schedule a free inspection and estimate!