Foundation Settlement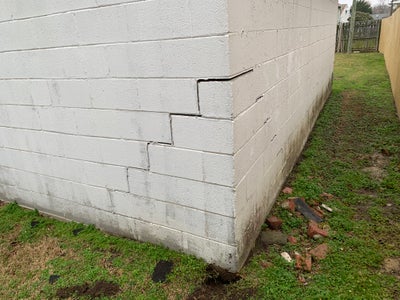 Foundation settlement is a grave concern that can undermine the structural durability of your Florida home. Professional intervention is crucial to address the issue.
At Alpha Foundations, we've been the go-to specialists for foundation repair since 2002. Our skilled team identifies the signs of foundation settlement and employs potent measures to stabilize your foundation and potentially elevate it.
Gain a deeper understanding of settlement through this comprehensive guide and be well-equipped to make the right choices for your property.
What Is Foundation Settlement?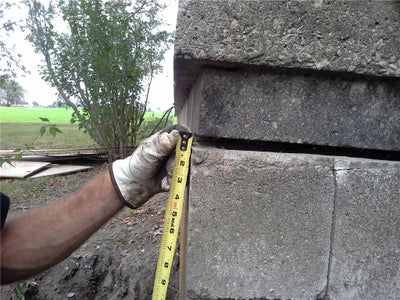 Foundation settlement occurs when the base of your home sinks unevenly into the earth below. The underlying issue is often the soil's incapacity to bear the structure's weight. 
The settling of the foundation can be gradual, taking several years, or can happen rather quickly following natural occurrences like torrential rainfall or dry spells. This downward movement separates the foundation from your home's other components.
Usually, this results in wall cracks, stuck doors and windows, or uneven floors. Ignoring foundation settlement could escalate into catastrophic structural impairment.
At Alpha Foundations, we offer an array of permanent solutions for tackling settled foundations. Our proprietary push piers, helical piers, and slab piers are designed to securely bolster foundations, warding off future settlement.
What Causes Foundation Settlement?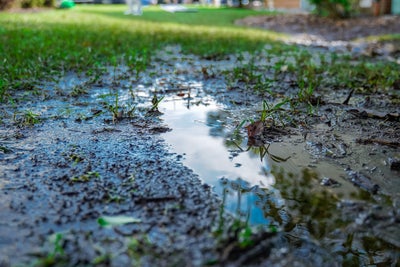 Several key elements contribute to foundation settlement:
Can You Fix Foundation Settlement?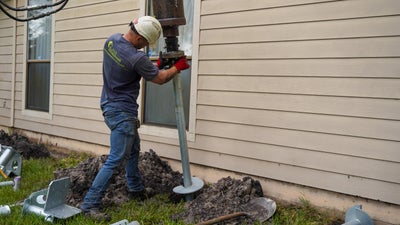 Absolutely, foundation settlement can be corrected! The key is to securely anchor the foundation, and if possible, lift the settled areas by shifting its weight to more resilient soil strata or bedrock.
More often than not, total foundation replacement is not necessary. Far less intrusive and more efficient solutions exist, and Alpha Foundations has the proficiency to implement them.
How to Fix Foundation Settlement 
Alpha Foundations tackles foundation settlement using pioneering technologies:
Push piers – These are robust steel columns that are embedded deep into the soil beneath the foundation and are then affixed with brackets to the footing.
Helical piers – Spiral steel piers are implanted beneath the foundation to engage stable underground soil layers.
Slab piers – These are utilized to reinforce and potentially elevate settled concrete slab floors.
Our ensemble of steel foundation piers permanently secures your residence and may even elevate sunken areas. Moreover, we can remedy any aesthetic damages attributable to the settlement.
Why Address Foundation Settlement Now? 
Several compelling reasons to deal with foundation settlement immediately are:
Mitigate Further Deterioration – Left untreated, settlement worsens, requiring extensive fixes.
Avert Safety Risks – Extreme sinking can destabilize walls and make flooring uneven.
Safeguard Your Asset – Your home's worth can be negatively impacted by settlement. Foundation repairs can help recover this loss.
Experience Peace of Mind – Our solutions are proven to last, and they ensure a stable, secure home.
Alpha Foundations offers exclusive foundation repair products and a team of adept technicians to comprehensively address your foundation settlement issues. Set up your free evaluation and repair cost estimate now!
Reach Out to Alpha Foundations for Solutions to Foundation Settlement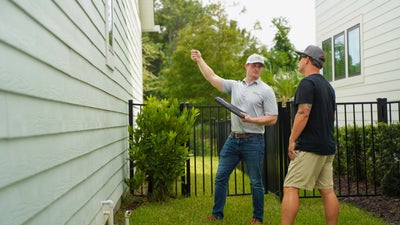 Don't delay in remedying your settled foundation. Alpha Foundations has the technical expertise to meticulously identify the underlying problems and repair your foundation using innovative pier technologies.
We extend free, zero-commitment cost estimates for our services. Our knowledgeable technicians are ready to examine your home's foundation and propose optimal repair methods. Reach out to us today to initiate the process!
Publish Date:
Last Modified Date:
Explore more problem signs