Florida's Guide to Repairing a Concrete Driveway
What would you do if you couldn't use your driveway every day?
It might seem like a minor inconvenience at first, but it can impact your lifestyle, as well as your home.
You might be saying, "Oh, that crack has been there forever. Driving over that 'little bump' is no big deal…"
The driveway bears the brunt of foot traffic, heavy vehicles, and the elements. Wear and tear is natural, but some damage can render the driveway harmful and even non-functional.
Let's take a closer look at how your driveway can be damaged and the best way to restore its safety, function, and appearance.
Everything That Damages Your Driveway
Your concrete driveway can sustain damage for many reasons, but these are the most common:
Precipitation
Poor Drainage
Soil Washout and Erosion
Tree Roots
Heavy Vehicles
Let's take a look at each of them.
Precipitation
Florida is a wet and humid state that experiences year-round rain as well as hurricane threats. All this water inundates the soil under your driveway and creates instability, which we'll further explain below.
Poor Drainage
There are a lot of ways water can affect your driveway, like excessive precipitation. But poor drainage systems make it a lot worse. This includes damaged gutters and downspouts that discharge water on or near your driveway.
Soil Washout and Erosion
Water is a powerful force.
Runoff from heavy rain and ineffective drainage can wash away and erode the variety of soils (sand, clay, organic materials, etc.) beneath concrete driveways in Florida.
Without a stable base, the concrete will sink and crack, which you can see here.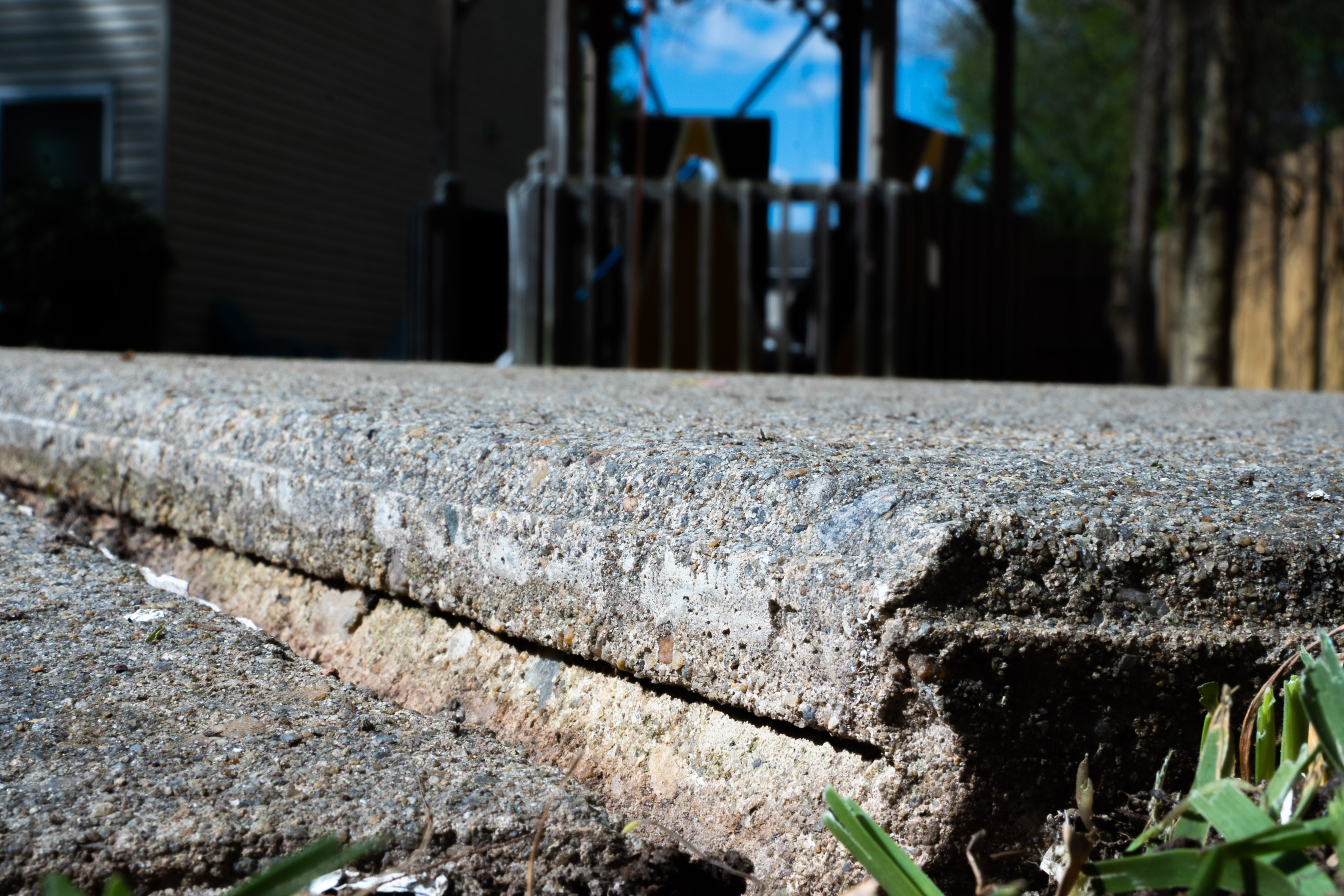 Tree Roots
Some trees have aggressively growing roots that move through the soil searching for nutrients. As these roots extend outwards, they shift the soil which can cause the concrete to shift, as well.
Heavy Vehicles
Even with a variety of vehicles on the road, the average weight of a vehicle is more than 4,000 pounds.
That's a lot of weight for driveways to carry, especially if a vehicle is parked in the same spot for a long time. The concrete slabs in your driveway, as well as the underlying soil, can fail and start to sink.
---
Can You Repair Driveway Cracks and Uneven Slabs?
Vigilance is key to repairing and protecting your driveway.
The sooner you spot problems – including cracks and uneven slabs – and reach out for professional assistance, the easier it will be to fix them.
In the same vein, the longer you wait to repair your driveway, the worse its condition will become.
Not only will this result in tripping hazards and dangerous bumps that can harm your car, but repairs will eventually be extensive and costly.
Repouring the concrete will not address the root of the problem. Keep reading to learn what repair does just that.
Here's How to Repair Your Driveway: Lifting & Leveling
Sunken, uneven concrete slabs will not benefit from additional concrete being poured or re-poured. The unstable soil underneath will only continue to sink under the heavy concrete's weight.
Lifting and leveling these slabs with a lightweight but durable material is the best way to ensure their stability. This means the use of polyurethane foam injections.
Here's how the process works, which you can see in the above gallery:
Small, penny-sized holes are drilled into the affected concrete.
Injection ports are placed in the holes.
A two-part, closed cell polymer foam is mixed.
The material is injected under the concrete.
The foam expands to fill any voids and cures within 15 minutes.
The slab is lifted, and the soil is simultaneously tamped down.
Injection ports are removed, and drilled holes are filled and smoothed.
Mudjacking or Foam Jacking?
The process we described above is quick and simple for trained concrete repair professionals. It also is preferred over traditional repairs like mudjacking.
Mudjacking is essentially the same, but it comes with a lot of drawbacks. Here are the installation steps, which are also cons of the process:
Drill soda can-sized holes in the concrete.
Create a heavy mixture of cement, water, soil, and other materials.
Pump the "slurry" under the concrete.
The material fills a cone-shaped space directly beneath the slab.
The slurry cures in 1-3 days.
Essentially, mudjacking is a temporary solution that is messy, expensive, invasive, and disruptive.
Also, the slurry material is heavy and will lead to the same problems with sinking soil and slabs.
On the other hand, polyurethane injections are lightweight, waterproof, and longer lasting.
Is It Worth It to Resurface?
Resurfacing is attractive to homeowners because it is a quick fix. However, it does nothing to address the root of the driveway problems – the soil.
Much like other options such as mudjacking and complete replacement, resurfacing is merely a short-term bandage.
It would require continuous financial and time investment and installation. Rather than sinking copious time and money into something that will not work in the long run, consider a more durable and modern concrete lifting and leveling solution.
---
Can You Level Your Own Concrete?
While there's nothing like the satisfaction of a job well done by your own two hands, concrete lifting and leveling is not a do-it-yourself endeavor.
We've been around a while, and our team has seen people do the work incorrectly… a lot. And it's cost them more in the long run.
We've seen problems with homeowners repouring concrete, trying their hand at mudjacking, combining bottle jacks and foam, and installing other projects that missed the mark.
Not only are these big-box store repairs temporary, but they aren't warrantied.
Overall, you deserve the best professional concrete lifting, and you deserve peace of mind, so hire a trusted, local professional that offers a warranty on their work (like ours!).
FAQs
Yes, an existing concrete driveway can be resurfaced or refinished. This is fine for improving the driveway's overall aesthetics.
But if your driveway has damage like cracking and unevenness, resurfacing is not the answer. Resurfacing coatings will only mask problems that will worsen over time.
Most newly constructed driveways last approximately 20 years (at minimum), and some may have a longer lifespan.
However, nearly all driveways will sustain some type of damage like cracking at some point in their lifetime.
Yes, a concrete driveway can be lifted and leveled.
Cost and time efficient repair methods can be used if you keep an eye on the concrete's condition and reach out to professionals for assistance as soon as you notice a problem.
This includes the installation of lightweight but durable and long-lasting polyurethane injections.
Conclusion: Making Informed Decisions About Your Driveway Repairs
You use your driveway every day, and it's important to maintain its safety so that it can last for years to come.
Here at Alpha, we want to help you make wise, informed decisions about your home repairs that can bring you peace of mind and keep your family safe.
We're homeowners, too, so we know the process can be messy, stressful, and expensive.
To avoid a lot of that, we do encourage you to hire a professional, and we do think we're the best concrete repair company in Florida.
But if you don't choose us, here's what you should look for in a concrete repair company:
Make sure they're local.
Make sure they understand the soil in your area.
Make sure they understand how the local climate affects concrete around your home (especially your foundation).
Make sure they have a lot of experience and training in concrete lifting.
We've got all of that covered with 20 years of experience helping Florida homeowners just like you.
Feel free to ask us about it sometime, and we'll get you a free inspection and estimate on repairs.