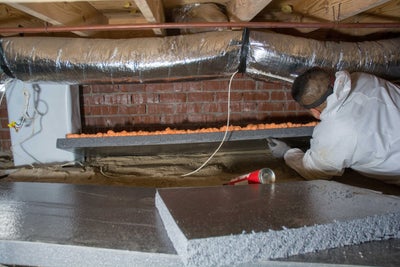 The Best Way to Insulate a Crawl Space
Have you ever had floors that feel extremely cold? Maybe it seems hotter than usual in your house during the summer. It likely stems from poor insulation in your crawl space—or none at all. Proper insulation is a necessary component of any crawl space. Without it, your home is at risk for structural damage or high energy bills.
The best way to insulate your crawl space is with foam board insulation. Let's look at why that's the case and how you can get it installed as soon as possible.
Why Use Foam Board Insulation in a Crawl Space?
Foam board insulation is a great choice for homeowners looking to insulate their crawl spaces. Its high thermal resistance keeps your home cooler during hot summers, reducing air conditioning costs.
Plus, foam board insulation is resistant to high humidity. This prevents dampness, mold, and structural damage in your crawl space. Its rigid structure and easy installation make it a durable, hassle-free solution. Overall, foam board insulation offers the following benefits:
High R-value: Rigid foam insulation has a high R-value per inch, meaning it is more effective at preventing heat transfer than many other types of insulation.
Moisture Resistance: Unlike fiberglass or cellulose insulation, rigid foam does not absorb water. This makes it a good choice for areas where moisture may be a concern, like a crawl space.
Mold Resistance: Since it doesn't absorb water, rigid foam insulation is less likely to support the growth of mold and mildew than other types of insulation.
Air Sealing: Foam board insulation does a good job of sealing air leaks, which can make your home more energy-efficient and comfortable.
Sturdy and Durable: Foam board insulation is rigid and durable, so it can stand up to the conditions in a crawl space better than some other types of insulation.
Easy Installation: Foam boards can be cut to fit the space where they're being installed, making installation easier and more precise.
ExtremeBloc™ Rigid Foam Thermal Insulation
An excellent option for those considering foam board insulation is ExTremeBloc™. Made of expanded polystyrene foam and incorporated graphite, it improves insulation by 24 percent.
ExtremeBloc™ is treated with a termiticide to deter the pests who would normally eat through insulation. When the panels are installed, the crew will leave an inspection gap to allow for pest control inspections.
Additionally, ExtremeBloc™ insulation is part of our crawl space encapsulation system. Pairing our crawl space water management solutions with ExtremeBloc™ gives you the most bang for your buck by properly sealing the crawl space from water, moisture, and gases; our insulation helps create a truly energy-efficient home.
Foam Board Insulation: How it Enhances Crawl Space Encapsulation
Foam board insulation complements the use of vapor barriers by providing an additional layer of protection against moisture. While the vapor barrier blocks moisture from the ground, foam board insulation controls outside air intrusion, reducing the overall moisture levels in the crawl space.
By helping maintain a consistent temperature in the crawl space, foam board insulation also makes it easier for dehumidifiers to do their thing. When the temperature is stable, dehumidifiers work more efficiently, ensuring that the relative humidity in your crawl space stays within a desirable range.
With foam board insulation, the temperature inside your crawl space remains constant. Overall, this minimizes the amount of moisture below your home!
Why Fiberglass Insulation Isn't Great for Your Crawl Space
For most crawl spaces, fiberglass insulation is installed by default due to its cost-effectiveness and wide use in other parts of the home. However, in the case of crawl spaces, it may not be the ideal choice. Here's why:
Moisture Absorption: Fiberglass insulation can absorb moisture, which is often present in the damp environment of a crawl space. This moisture absorption reduces the insulation's effectiveness and can lead to mold and mildew growth, impacting your home's air quality.
Sagging and Shifting: Over time, fiberglass insulation may sag or shift, creating gaps that can decrease your home's energy efficiency.
Air Leakage: Unlike alternatives like foam board insulation, fiberglass doesn't prevent air infiltration. As a result, warm, humid air can still enter the crawl space, leading to potential condensation and increased dampness.
Pest Infestation: Fiberglass insulation often becomes a nesting ground for unwanted pests like rodents and insects.
Not Ideal for Flood Zones: In flood-prone areas, fiberglass insulation can get water-logged, detach from its position, and possibly block crawl space vents.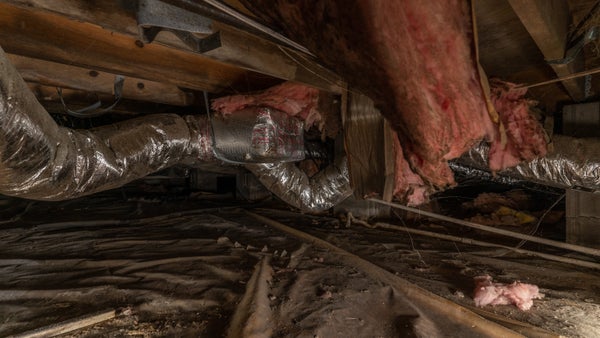 In the image to the right, you can actually see damaged fiberglass insulation in a crawl space. Having helped homeowners transform their crawl spaces for over two decades, we've seen countless crawl spaces end up looking just like that. Fiberglass insulation ends up being more of a hassle than it should be when it's placed inside your crawl space. Make your home more efficient and stress-free with ExtremeBloc™!
Work with Alpha Foundations to Insulate Your Crawl Space
Insulating your crawl space is important, especially in climates that lead to frequent flooding or high humidity. Remember, crawl space insulation works best alongside other water management tools. Address the root cause first by improving drainage, sump pump installation, or encapsulating the crawl space. Contact our team to determine the best type of insulation for your specific situation. With the right steps, you can protect your home, save on energy costs, and create a healthier living environment!