It's kind of amazing—the weather in Florida seems to change faster than a chameleon changes colors. As Florida natives ourselves, we realize that homes and other buildings in our state are often confronted with unique challenges due to the state's climate and geography.
One such issue can be seen in the image above. 'Bouncy floors,' a seemingly harmless but often overlooked problem sign that can indicate a serious underlying issue in your home's crawl space.
What Are Bouncy Floors?
'Bouncy floors' refer to floors with an unusual give or bounce when walked upon. We've all heard it at some point, and many people simply attribute bouncy floors to a home's age.
While this is sometimes the case, bouncy floors are more than likely a side effect of more serious issues, particularly water damage in your crawl space. In many cases, a floor that feels bouncy or spongy indicates weakening support beams due to moisture found below your home.
Why Bouncy Floors are a Problem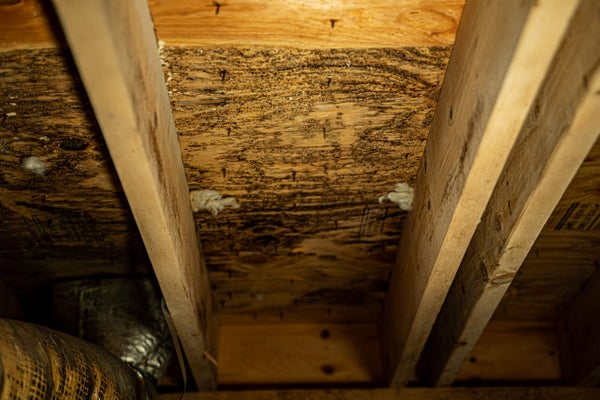 Bouncy floors are an annoyance for many homeowners. They make walking around the house a noisy affair, and they cause furniture to shake and rattle as you pass by.
They can make your floors look warped—not the most welcoming sight. But beyond the surface level problems, bouncy floors suggest an even larger problem growing below your home.
This is where the real risks appear. Bouncy floors generally occur because of wood rot in your crawl space. Since wood rot is caused by moisture intrusion, the water below your home eventually compromises the structural integrity of the entire crawl space.
Without the proper precautions, this leads to safety risks and lower home value. Additionally, a damp crawl space fosters mold growth. This negatively impacts indoor air quality and may even exacerbate health issues (like allergies) in some people.
As you can see, bouncy floors are just the tip of the iceberg for larger crawl space problems. If you find them in your home, it's more than likely a sign that bigger problems are on the horizon.
What Should I be Looking for in My Home?
The most obvious sign to look out for is a noticeable bounce when you walk across a room. This may be accompanied by creaking noises or rattling furniture.
Other things you might notice are sagging floors, musty odors, visible mold or mildew, or increased allergy symptoms among those in your home. Additionally, you may notice increased utility bills due to loss of energy efficiency. Crawl space moisture tends to reduce the effectiveness of insulation below your home.
What Causes Bouncy Floors in My Home?
Bouncy floors typically result from high amounts of moisture in your crawl space. Florida's high humidity and frequent rain often cause crawl spaces to become damp. Over time, the moisture leads to rot and weakens the beams and joists supporting your floors.
This causes your floors to sag and bounce. Poorly installed or damaged vapor barriers, lack of proper ventilation, or inadequate drainage can also contribute to moisture buildup in your crawl space, exacerbating the problem.
How can Alpha Foundations Fix Bouncy Floors in My Home?
At Alpha Foundations, we specialize in diagnosing and treating crawl space issues, including bouncy floors. We begin with a free and thorough inspection to identify the source of the problem.
The SettleStop IntelliJack™ Crawl Space Support System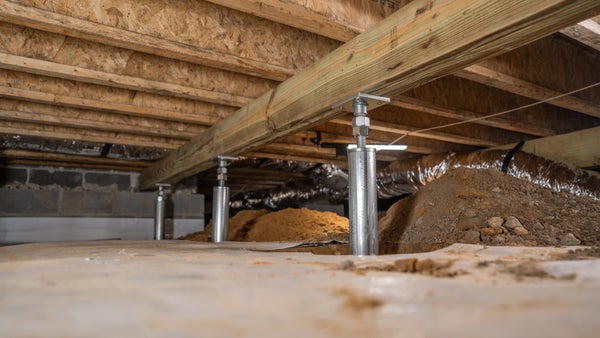 Alpha Foundations' IntelliJack™ Support System is the ultimate solution for sagging, bouncy, or uneven floors. These galvanized steel supports are engineered to reinforce sagging beams and undersized joists, providing strength and support to your home's floors.
Experience unmatched strength with the IntelliJack system, as each support jack is capable of handling over 24,000 pounds. Rest assured knowing this system has been rigorously tested and certified to meet the highest industry standards, offering a reliable solution for sagging floors.
One standout feature of the IntelliJack system is its ability to be adjusted for nearly any crawl space height. Our team of crawl space repair experts will install the IntelliJack system, carefully finding the optimal position for each jack to provide the best support.
Once installed, these supports can continue to be adjusted if needed. This unique ability to correct and maintain the height of your floor joists ensures long-term support and stability for your home.
Why Should You Trust Alpha Foundations?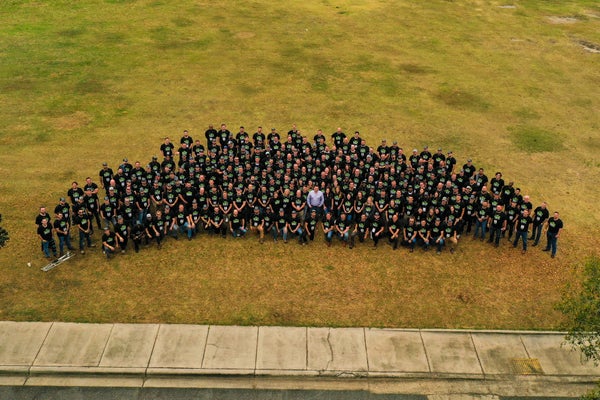 Alpha Foundations has a reputation for excellence in addressing crawl space moisture issues throughout Florida. With over two decades of service and a deep understanding of the region's unique challenges, we've successfully helped thousands of homeowners reclaim a sense of safety and control.
For Alpha Foundations, your home's integrity and your satisfaction are our top priorities. Trust us with your crawl space concerns and join the multitude of Florida homeowners who have done the same. Contact us for a free crawl space inspection and take the first step toward a drier, safer, less bouncy home!
FAQ: Bouncy Floors
Yes, bouncy floors can occur even in newly constructed homes. While it is true that aging homes are more prone to this issue due to long-term exposure to environmental conditions, new homes are not exempt. If the crawl space isn't correctly prepared or if there is inadequate drainage, it can lead to moisture build-up and consequently result in bouncy floors. 
The timeline to fix bouncy floors varies based on the severity of the issue and the size of the house. Following a thorough inspection to identify the source of the problem, our team will provide an estimated timeline for the repair process. Typically, crawl space repair only takes 1-2 days to complete. 
Yes, there are preventative measures homeowners can take to avoid moisture build-up in the crawl space. These include ensuring proper ventilation in the crawl space, installing a high-quality vapor barrier, and making sure there is adequate drainage around the home. Regular inspections and maintenance of the dehumidifier are also key to early detection and prevention of potential problems.