Vapor Barrier
If you're experiencing musty smells, high indoor humidity, or sagging floors inside your home, adding a vapor barrier in your crawl space could be the solution.
Schedule Free Inspection
Vapor barriers and crawl space encapsulation help maintain a healthy home environment. They prevent moisture from entering your home's crawl space, which can cause a wide range of issues, such as mold growth, high humidity, structural damage, and poor indoor air quality.
Alpha Foundations is here to provide you with a comprehensive look at vapor barriers – how they work, what they solve, and how we install them in your crawl space.
What are Vapor Barriers?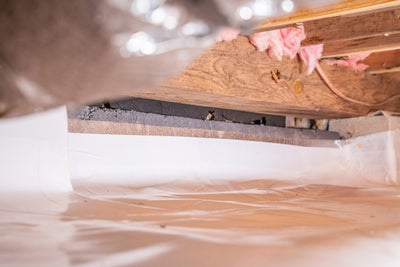 Vapor barriers  stop moisture from passing through walls, roofs, and floors. They are usually made of special materials that don't let water vapor through, like plastic sheets.  
Vapor barriers prevent moisture from moving from areas with a lot of moisture to areas with less moisture. This helps prevent problems like mold and condensation in buildings.
Vapor barriers are great at helping to keep crawl spaces strong and durable since this type of foundation is especially prone to water damage. Installing any vapor barrier with the correct tools and training is crucial to ensure it works as intended.
Our CrawlSeal™ Vapor Barrier
At Alpha Foundations, we understand the importance of creating a healthy living environment for your home. For that reason, we install the patented CrawlSeal™ vapor barrier, a high-quality vapor barrier that is part of our more extensive crawl space encapsulation system. 
Features of the CrawlSeal™ Liner:
Heavy 20-mil-thick liner – Similar to a swimming pool liner, makes it easier to move inside the area if necessary. 
7 protective layers – Combination of high-density polyethylene for puncture resistance, low-density polyethylene for flexibility, and polyester cord for reinforcement for brute tear resistance.
Slick white finish – Brightens the crawl space and makes it easy to see that the crawl space is free of mold, insects, and dirt.
What Does This Solution Fix in the User's Home?
By choosing Alpha Foundations for your vapor barrier and crawl space encapsulation needs, you can address several common problems associated with crawl space moisture. These issues include: 
Mold Growth
Excess moisture in your crawl space can create a favorable environment for mold growth. Mold can spread quickly and release spores that can affect the air quality in your home, potentially causing respiratory issues and other health problems.
Structural Damage
Moisture can weaken the structural integrity of your home's foundation by causing wood rot, rusting metal supports, and compromising the stability of the foundation walls. This can lead to costly repairs and pose a safety risk to your home. 
Pests
A damp crawl space can attract pests such as termites, rodents, and insects, which can cause damage to your home's structure and pose health risks to your family. 
Poor Indoor Air Quality
Moisture in your crawl space can lead to musty odors and create an environment where allergens and other contaminants thrive. This can result in poor indoor air quality, leading to respiratory issues and other health problems for you and your family. 
How Alpha Foundations Installs a Vapor Barrier
At Alpha Foundations, we have the expertise and experience to install vapor barriers and encapsulate crawl spaces properly, ensuring that your home is protected from excess moisture. Here's an overview of the steps we take to fix the problem: 
Wood and organic materials are removed. 
Rocks are removed, and uneven surfaces are leveled by hand (depending on conditions).
The CrawlSeal™ liner is carefully fitted and installed on the crawl space floor and walls.
Drilled-in fasteners and spikes are installed  to hold the liner in place permanently.
Edges, seams, and pipe penetrations are sealed.  
Contact Alpha Foundations for a Free Inspection
If your crawl space is experiencing problem signs like mold or wood rot, Alpha Foundations wants to make sure your home stays protected. For 20 years, our company has helped homeowners statewide repair and encapsulate their crawl spaces.
As a result, our customers often see an increase in property value and overall safety around their home. If you choose to work with Alpha, you can experience these benefits too.
Take a look at the thousands of positive online reviews from satisfied homeowners across Florida and our business ethics awards from the Better Business Bureau that show our commitment to honest work.
Contact us to schedule a free concrete inspection, where we will make a plan together to protect your home. Florida's heavy rain and high humidity can put any crawl space at risk, so act today!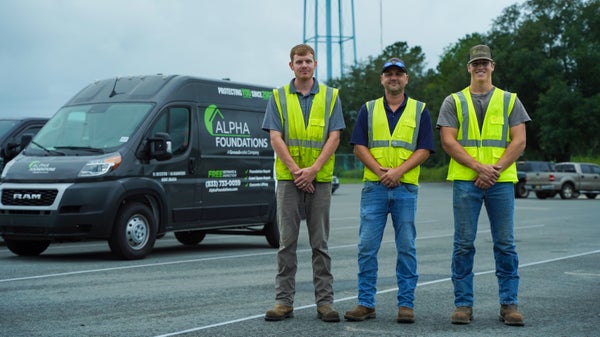 Publish Date:
Last Modified Date: