Sinking Foundation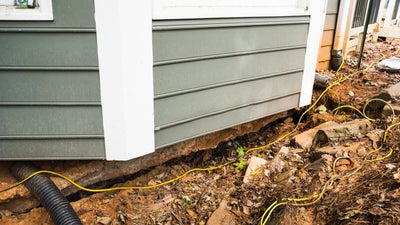 Is it getting harder to open your window? Or perhaps you've noticed a crack opening up on your living room wall. Both of these are indications that your foundation is sinking.
While these might seem like trivial issues, they're usually early indicators of foundation damage. A sinking foundation jeopardizes not only your home but also the safety of you and your family.
At Alpha Foundations, we specialize in resolving foundation issues with our state-of-the-art repair services. This page will guide you on how to effectively tackle a sinking foundation, ensuring the long-term security of your home.
What Is a Sinking Foundation? 
A sinking foundation occurs when the ground beneath it fails to provide adequate support. This phenomenon is called differential settlement, and it's more common in Florida than you may realize. Differential settlement jeopardizes your home's structural integrity, affecting vital components such as walls, floors, and even the roof.
If your foundation is sinking, you'll likely observe additional problems throughout your house. These noticeable warning signs indicate foundation issues:
Ignoring these signs could lead to serious structural issues or even other safety hazards like gas or electrical damage.
What Causes a Sinking Foundation? 
Several external factors contribute to your home's foundation challenges. Regardless of the source, each comes with its own set of difficulties we can resolve. The primary causes are: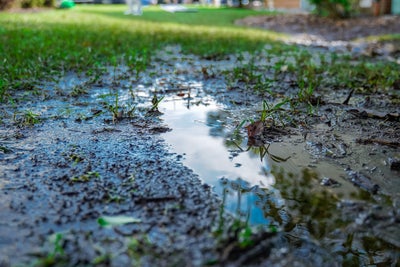 Soil Erosion: Soil swells with water after rain and then contracts when it dries out. This process incrementally creates gaps that cause the foundation to sink over time.
Drainage Issues: Ineffective drainage not only disrupts soil balance but also fosters mold and mildew, complicating matters further.
Weak Soil Compaction: Poorly compacted soil can give way under the weight of the house, escalating to grave concerns like basement inundation.
Roots and Trees: Tree roots can dehydrate the soil, leading to contraction and voids under the foundation. In some instances, roots can even inflict direct harm to your foundation.
Can You Fix a Sinking Foundation? 
Yes, a sinking foundation can be fixed! The best solutions are those installed by experts using professional techniques. AFS has industry-leading tools designed to strengthen your foundation and stop it from declining any further.
Timely intervention could save you substantial money in repair costs and stop your property value from getting lower. While DIY fixes might be cost-effective for other types of home repairs, they are not recommended for foundation damage.
DIY attempts may offer a temporary surface fix but fail to address the underlying problems. As a result, the problem continues to fester and only increases future repair expenses.
How to Repair a Sinking Foundation 
To provide a durable fix, Alpha Foundations uses underground piers that anchor to solid earth, supporting your home. These piers redistribute the weight of your house from the unstable soil, assuring long-lasting stability.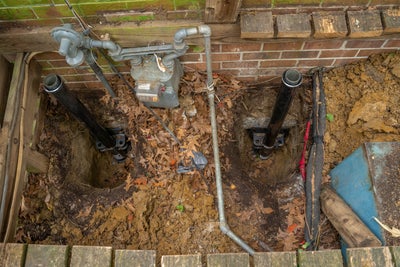 Alpha Foundations offers a variety of foundation piers to fortify and even elevate sinking foundations:
Push piers are driven deep into the soil using specialized machinery.
Helical piers are twisted into the ground for additional home support.
Slab piers anchor specifically beneath concrete slabs for added balance.
Why Address Sinking Foundations Now? 
Addressing a sinking foundation immediately offers multiple advantages:
Avoid rising costs due to extra structural damage.
Reinforce your home's structural reliability and safety.
Put an end to further cracking and uneven settlement.
Cease the progression of sticking doors and windows.
Boost home value before selling.
Don't wait—contact the experts at Alpha Foundations for a free inspection and estimate. Gain peace of mind knowing your home's foundation is in good hands for the years ahead.
Contact Alpha Foundations for Sinking Foundation Solutions 
If you think your foundation is sinking, contact Alpha Foundations today. Our experienced team will comprehensively inspect your foundation and propose long-lasting solutions tailored for your unique circumstances.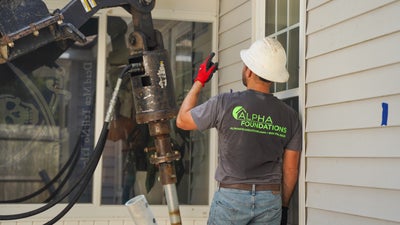 We recognize the stress associated with foundation issues—it's akin to automobile troubles but on a larger scale. That's why we offer flexible payment options designed to ease both your structural and financial concerns.
With more than a quarter-century of experience, we have the expertise and credentials to identify any foundation problem and offer assured, effective repairs. Book your no-cost inspection and estimate today and take the first step in guaranteeing your home remains stable and secure for years to come.