Foundation Piers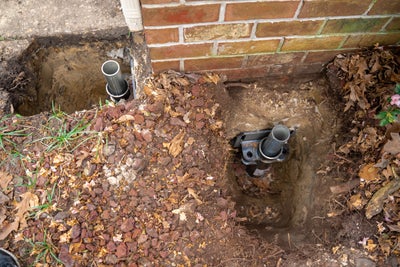 Your home's structural integrity and lifespan hinge on the quality of its foundation. When the foundation starts to sink, it puts both your home's structural integrity and your family's safety at risk.
Signs like uneven floors and wall cracks indicate a foundation in distress. Timely action is imperative to address these warning signs.
At Alpha Foundations, we specialize in foundational repair solutions such as foundation piers that offer lasting support for your sinking foundation. Our range of piers—helical, push, and slab—are customized to meet your specific repair needs, ensuring a fortified and resilient home.
This page highlights the importance of foundation piers for your home's well-being and why Alpha Foundations is the best source for this vital service.
What Are Foundation Piers?
Foundation piers act as robust underground columns that are driven deep into the ground to anchor onto solid soil or bedrock. This ensures the essential stability that your foundation requires.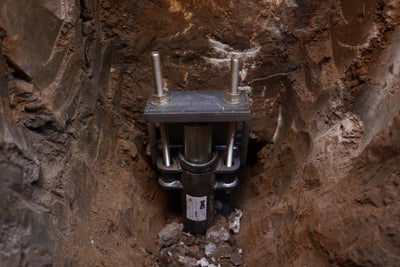 By functioning as sturdy pillars for the foundation to rest on, our piers distribute your home's weight evenly. This not only stops further settling but also offers the opportunity to elevate your home to its original position (if the situation permits).
Pier systems contribute significantly to your property's enduring stability, offering protection against structural issues caused by shifting or expanding soil conditions.
Foundation piers can also complement other home care approaches such as crawl space repair. In essence, they can play a huge role in maintaining your home's structural health.
Signs You Need Foundation Piers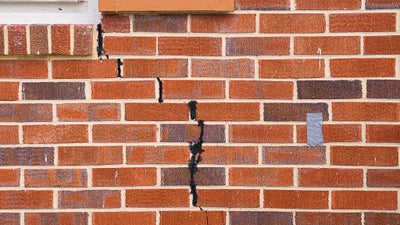 Spotting the early signs of a foundation in trouble is crucial. Keep an eye out for:
If any of these issues surface, don't hesitate to contact Alpha Foundations for a no-cost foundation evaluation and tailored repair suggestions.
Are Foundation Piers Necessary?
Absolutely, foundation piers are essential for providing a lasting fix to a sinking foundation and averting further damage. Addressing foundation problems sooner rather than later is cost-effective.
Ignoring the need for foundation piers can lead to spiraling costs as conditions worsen. As Florida's leading and trusted foundation repair experts, we recommend immediate intervention at the earliest warning signs.
What Are the Different Types of Foundation Piers?
Alpha Foundations offers three types of piers—helical, push, and slab—that are engineered to adapt to Florida's diverse soil characteristics. Though they vary in application, they all serve the same stabilizing purpose.
Helical Piers
Our helical piers feature steel columns with helical blades at the ends, functioning like screws to anchor your home to stable ground. This ensures robust foundation support.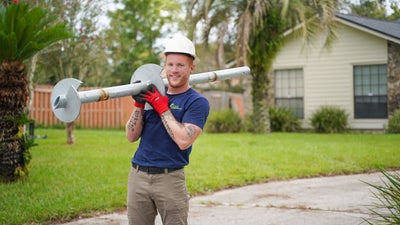 The installation process involves:
Exposing the foundation footing by removing soil
Inserting the piers with hydraulic equipment
Verifying pier depth and load-bearing capabilities
Attaching a high-strength steel bracket
Setting exterior wall markers
Refilling the excavated soil
Push Piers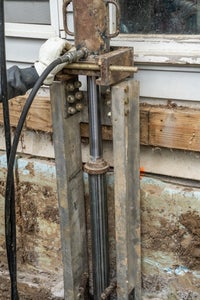 Push piers consist of elongated steel rods that are driven deep into the ground with special equipment, utilizing the house's weight for added stability.
Installation includes:
Excavating soil to reveal the foundation footing
Securing a bracket to the footing
Driving the piers into the soil
Checking depth and load capacities
Positioning exterior wall markers
Replacing the removed soil
Slab Piers
Slab piers are uniquely designed for installation directly beneath concrete slabs, unlike other piers that are installed on your home's exterior footing.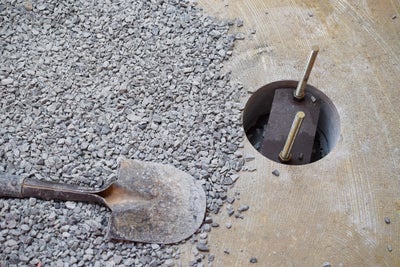 Installation entails:
Removing any pre-existing flooring
Drilling an opening to access the foundation footing
Securing a bracket under the footing
Installing pier segments into the ground
Checking depth and load capacities
Fastening a bracket to the concrete slab
Filling the opening with fresh concrete for a smooth finish
What Are the Benefits of Foundation Piers?
Alpha Foundations' pier systems offer your home benefits such as:
Enduring Stability: Long-term foundation stabilization guaranteed
Settlement Prevention: Stop further foundation sinking
Damage Mitigation: Counteract additional structural issues like wall cracks
Long-Term Foundation Health: Keep your foundation secure for years to come
Lifting Capability: In certain cases, our piers can be adjusted to lift a settled foundation close to its original position
Even though we have three different types of pier systems available, they all provide these same benefits. At Alpha Foundations, our expertise is in stabilizing your home, no matter the location or type of damage.
Why Alpha Foundations' Foundation Piers Are Your Best Option
Our foundation piers offer:
Advantage over generic alternatives
Customized designs for Florida soils
High-quality, durable construction
Comprehensive warranty
Contact Alpha Foundations for Your Foundation Pier Needs Today!
Don't underestimate your home's foundation issues—they won't fix themselves. Choose Alpha Foundations to secure your home right the first time.
We have been reinforcing homes across Florida for over 20 years. Contact us today for a free inspection and quote. Trust Alpha Foundations to help you establish a secure and stable home.
Publish Date:
Last Modified Date: